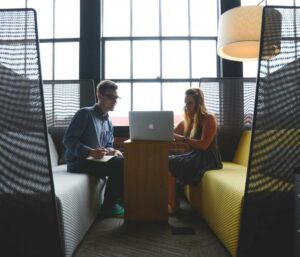 Welcome to OfficeLocale: Your Premier Co-Working Space and Meeting Room Solution
At OfficeLocale, we understand the evolving landscape of work. Whether you're a solo entrepreneur, a growing startup, or a remote worker from a large corporation, our co-working space and meeting rooms are designed to meet your professional needs. We offer a modern and flexible workspace solution that fosters productivity, creativity, and collaboration.
Our Co-Working Space: Your Ideal Workspace
Experience the Freedom of Flexibility At OfficeLocale, we believe in the power of flexibility. Our co-working space offers a dynamic and adaptable environment where you can choose how and where you work. With a variety of workstations, from open desks to private offices, you can select the setup that suits your work style best. Need a change of scenery or a quieter corner? It's all at your fingertips.
Connect, Collaborate, and Network In our vibrant co-working community, you'll have the opportunity to connect with like-minded professionals. Share ideas, collaborate on projects, and expand your network. Our regular networking events, workshops, and communal areas are designed to facilitate meaningful interactions.
Top-Notch Amenities We understand that a comfortable and well-equipped workspace is essential for productivity. That's why OfficeLocale provides amenities such as high-speed Wi-Fi, printing services, ergonomic furniture, and a fully stocked kitchenette. Everything you need to stay focused and refreshed throughout the day.
Flexible Memberships We offer flexible membership plans to suit your needs, whether you need a workspace for a day, a week, a month, or longer. Our transparent pricing ensures that you only pay for what you use, with no hidden fees or commitments.
Meeting Rooms: Elevate Your Business Meetings
Professional Meeting Spaces Impress your clients and partners with our modern and fully equipped meeting rooms. Whether you need a small room for an intimate discussion or a spacious boardroom for a presentation, our meeting rooms are designed for success.
Advanced Technology Our meeting rooms are equipped with state-of-the-art audiovisual equipment, high-speed internet, and video conferencing capabilities. Conduct presentations, brainstorming sessions, or virtual meetings with ease.
Convenient Booking Reserve a meeting room with just a few clicks through our user-friendly online booking system. Whether you need a room for an hour or a full day, our flexible booking options make it easy to plan your meetings.
Why Choose OfficeLocale?
Prime Location: Our co-working space is situated in a central location, making it convenient for you and your clients.
Professional Atmosphere: We provide a quiet and professional environment that allows you to focus on your work.
24/7 Access: With round-the-clock access, you can work on your own schedule.
Supportive Community: Join a community of entrepreneurs and professionals who share your passion for success.
At OfficeLocale, we're more than just a co-working space and meeting room provider; we're your partner in productivity and growth. Experience the difference of working in a space that inspires and empowers you.
Ready to take your work to the next level? Contact us today to book your co-working space or meeting room at OfficeLocale. Join us in shaping the future of work.